Industrial Robotics CAGR Growth Analysis in America

19 Dec, 2016
Industrial Robots in America has grown with a CAGR 27.4 percent from 2009 to 2015 for New Installation
In 2015, the North America and South America together had more than 38,000 units of fresh-installed industrial robots, which is four fold more than the amount installed during the financial crisis of 2009. The Americans had successfully installed almost 181,462 new robots since 2009. The New Installation of Industrial Robots in America (North America and South America) has grown with a CAGR of 27.4 percent from 2009 to 2015.
According to International Federation of Robotics (IFR) this growth has happened because of requirement for automation in the automotive industry. Other factors comprise the progress to automate production in other division to strengthen the competitive strategy of American industry widely, to safeguard manufacturing business at home and sometimes to bring back manufacturing that had antecedently been outsourced to other different countries, according to the IFR.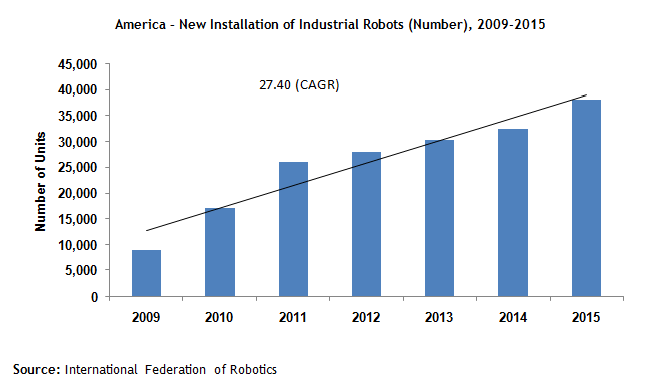 The major growth is driven by automotive components demand. Robots ordered for the food and consumer goods industry increased by 40 percent year over year. Nearly 269,000 units operational robot are in North American factories, according to the Industrial Robot Automation.
Market Research report "Global Industrial Robotics Market & Volume (Automotive, Electrical & Electronics, Metal, Chemical, Rubber and Plastics, Food, Others, Unspecified) Forecast" provides market data from 2010 to 2020 of all the 7 segments of Industrial Robotics.
Industrial Automotive Industry & Forecast

Industrial Electrical & Electronics Industry & Forecast

Industrial Metal Industry & Forecast

Industrial Chemical, Rubber and Plastics Industry & Forecast

Industrial Food Industry & Forecast

Industrial Others & Forecast

Industrial Unspecified & Forecast