United States (US) Anesthesia Market to be more than US$ 4 Billion by 2022

02 Aug, 2017
United States Anesthesia Market is estimated to be more than US$ 4 Billion by 2022. Anesthesia is a way to control pain during a surgery or procedure by using the medicine called Anesthetics. Because of the Anesthesia safe and effective surgery is possible. Anesthesiologists are the medical doctors who take care of the Anesthesia doses during the surgery.
Anesthesia can be categorized into three main types, each having many uses and forms they are General Anesthesia, Regional Anesthesia and Local Anesthesia.
• In General Anesthesia, there are a number of general anesthetic drugs some are gases or vapours inhaled through a breathing mask or tube.
• In Regional Anesthesia, Anesthesiologist makes an injection near a nerve for numbing the area of the body which requires surgery. There are many types of Regional anesthesia most commonly were Spinal Anesthesia and Epidural Anesthesia.
• In Local Anesthesia, is generally used in minor surgery the anesthetic drug is usually injected into tissue to numb the specified location of the body.

Market Overview: USA Anesthesia Drugs
United State is leading the General Anesthesia drugs market segment. Anesthesia market is segmented on the basis of Molecule and Route of Administration. In Molecule, the market is divided into Propofol, Benzodiazepine, Ketamine (S-(+)-Ketamine HCL) and Methohexital Sodium. Propofol is estimated to be the fastest growing segment. In Route of Administration, the Anesthesia drugs market is of two types Intravenous and InHalational.
In the USA, the Intravenous is estimated to account for the largest share of the general Anesthesia drugs market. Larger patient compliance and lower number of side effects as Inhalational anesthesia are driving this market. Propofol and Benzodiazepine are leading anesthesia drugs which hold more than 75 percent combined market share among other anesthesia drugs in the year 2016.
United States Local Anesthesia Market is also growing rapidly as Local Anesthesia blocks the nerve in small, specific parts of the body. Blocking is done by increasing the threshold for electrical excitation in the nerve, by slowing the propagation of the nerve impulse. The nerve loses its functionality like pain, temperature, touch, proprioception and skeletal muscle tone. The Local Anesthesia is further classified into Ester-Linked Local Anesthesia and Amide-Linked Local Anesthesia. Ester-Linked Local Anesthesia like Cocaine, Procaine, Chloroprocaine, Tetracaine, benzocaine and others. Amide- Linked Local Anesthesia like Lidocaine, Bupivacaine, Dibucaine, Prilocaine, Ropivacaine and others.

Key Players Sales in United States Anesthesia Drugs Market
Many companies of the Anesthesia drugs are selling their products. Mostly the anesthesia drugs sale are in generic in nature and available at low cost. The main drug's manufacturers are as AstraZeneca, AbbVie, Endo Healthcare etc. In the United State, only Baxter International Anesthesia drugs sales are rapidly increasing.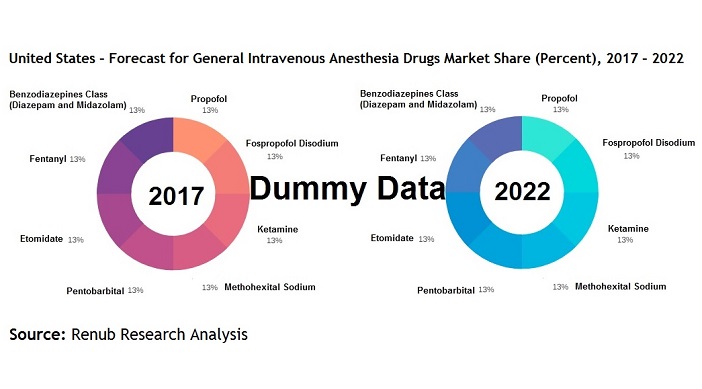 The Report Studies the Global Cervical Cancer Screening Market on the basis of:
General Intravenous Anesthetic Drugs Market
• Propofol Market
• Benzodiazepines Class (Diazepam and Midazolam) Market
• Fospropofol Disodium Market
• Ketamine Market
• Methohexital Sodium Market
• Pentobarbital Market
• Etomidate Market
• Fentanyl Market

USA Local Anesthetic Market
• Articane Market
• Bupivacaine Market
• Lidocaine Market
• Mepivacaine Market
• Prilocaine Market

About Us
Renub Research is a Market Research and Consulting Company. We have more than 10 years of experience especially in international Business-to-Business Researches, Surveys and Consulting. We provide wide range of business research solutions that helps companies in making better business decisions. Our clients rely on our market analysis and data to make informed knowledgeable decisions. Our pertinent analysis helps consultants, bankers and executives to make informed and correct decisions.
Contact Us
Renub Research
Phone: +1-678-302-0700
Email: info@renub.com
Website: www.renub.com
Follow us on LinkedIn: www.linkedin.com/company/renub-research