Prostate Cancer Market (Prostate Cancer Drugs Market Share, Zytiga, Gonax, Lupron, Zoladex, Decapeptyl, Eligard, Vantas, Leuplin, Casodex, Xtandi, MDV3100, Taxotere)

06 Jan, 2017
Zytiga has highest market share in Prostate Cancer Market share globally. Zytiga is facing hard fight from Xtandi drugs which is anticipated to substitute Zytiga as the primary prostate cancer drugs in 2015. Zytiga was one of a small number of treatment choices for patients suffering from prostate cancer. This shows that most doctors prefer to treat patients with Zytiga drug despite its side effects. Before September 10, 2014 Xtandi, was given to only those patients who have previously received chemotherapy. But after September 10, 2014, Xtandi was permitted to be used as treatment choice for pre–chemotherapy prostate cancer patients.
Out of 15 Prostate Drugs Market share only 4 drugs (Zytiga, Zoladex, Leuplin & Xtandi or MDV3100) have double digit market share in prostate cancer drugs market. All these four drugs together account for more than 60 percent market share. Zytiga market share is more than double from its nearest competitor Leuplin.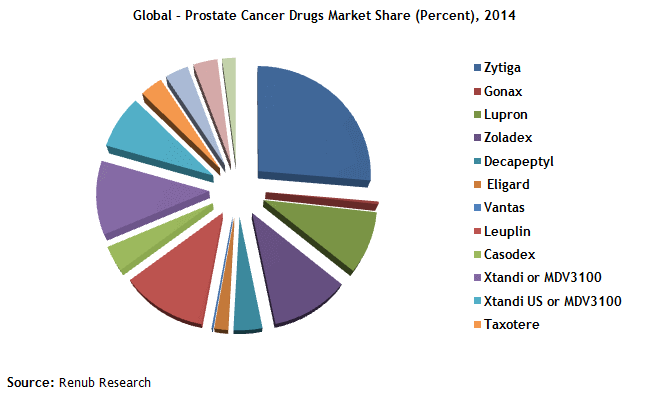 There are various prostate cancer treatments available for a man such as Surgery, Radiation, Hormone Therapy, Chemotherapy, Biologic therapy and Bisphosphonate therapy.
Surgery: In this doctor removes a certain part of prostate, the operation depends on the size of tumor.
Radiation: In this cure high-energy waves are used by doctors to reduce the size of tumor and kill cancer cells.
Hormone Therapy: Patients body makes few hormones which stimulates the size of prostate cancer cells. This treatment reduces the levels of hormones in the patient's body.
Chemotherapy: In this treatment drugs are given through a mouth or an IV for removing cancer cells and reducing the size of tumors. A patient gets chemotherapy, when the cancer spreads outside prostate and hormone therapy is not showing any result.
Biologic Therapy: This therapy works along patient's immune system, it's used in cases of advanced prostate cancer.
Bisphosphonate Therapy: In cases when disease reaches patients bones then these drugs are being given to get relieve from pain and stop fractures.
Market research report "Global Prostate Cancer Therapeutics Market to 2020" studies prostate cancer market, incidences and its drugs market. 15 Prostate Cancer Drugs Market have been studied in the report:
1. Zytiga
2. Gonax
3. Lupron
4. Zoladex
5. Decapeptyl
6. Eligard
7. Vantas
8. Leuplin
9. Casodex
10. Xtandi or MDV3100
11. Xtandi US or MDV3100
12. Taxotere
13. Jevtana
14. Provenge
15. Xofigo or Alpharadin