Japan Smart homes Market is forecasted to be US$ 5 Billion by the year 2024

30 Nov, 2017
Get Free Customization in This Report
Rising urban consumers flows of global trade & technology advancement drives Japan Smart homes Market (日本スマートホーム市場)
In spite of two painful "lost decades," during the course of time, Japan has lost much of its competitive edge. Japanese economy continues to work underneath its potential. Productivity expansion has steadily worn in nearly every sector as well as its signature advanced manufacturing industries. The fluctuation in policy create the favorable conditions for reigniting expansion, although, Japan needs a greater focus on what individual industries can do immediately and on their own. Actually, beginning a major private-sector proposal to renovate Japan's productivity performance can involve a "fourth arrow" of economic reform to complement the Abenomics agenda.
By the year 2024, Japan Smart homes Market (日本スマートホーム市場) is rely on US$ 5 Billion expanding at double fold CAGR. Japan is a nation with modern technologies, world-class infrastructure, a formidable manufacturing base, and a large and prosperous consumer market. And yet the world remains pessimistic about Japan's prediction for reinvention and expansion.
Request a free sample copy of the report: http://www.renub.com/contactus.php
Japanese consumer's and luxury executives reveal that expenses are up in one of the world's most important luxury markets. Dating back to years, it seemed that Japan's days as a premier luxury market were numbered. In the year 2011, two massive blows Tsunami and the earth quake shattered consumer confidence and put the brakes on luxury expenses. Massive financial tragedies and losses, expenses on high-end goods seemed profligate. Japan's workforce decreasing, it has to count on productivity as its major medium for development.

Smart Homes Facilitates
Connectivity and Interactivity are driving the way families to manage their homes as well as livelihood. So, if someone wants to out due to business, social activities, and children's school schedules, the new enhanced smart systems offer cutting edge connectivity to the household, even when someone not near to homes.

Japan is on the edge of a digital change
The expansion of smart home products in Japan will be highly prejudiced by Home Automation, Home Entertainment, Ambient Assisted Living (AAL), and Energy Management are other key features were also covered in this report.
Access full Research: http://www.renub.com/japan-smart-home-market-volume-home-automation-entertainment-energy-management-security-ambient-assisted-living-aal-p.php
Home Automation
It includes the vital equipment (connected and remote control devices) and services that form part of an intelligent home network. These include central control and communication units (Gateway), programmable control buttons (e.g. wall switches and adjustable dials), sensors and actuators (e.g. door and window sensors, shutters) as well as connected and remote controllable light sources (Smart Bulbs) or garage door controls.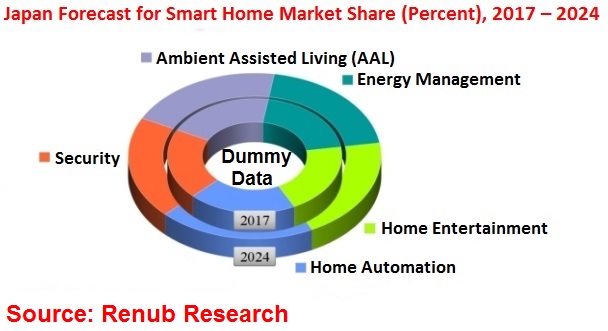 Ambient Assisted Living
It includes products and services for networked emergency alarms, accident detection (e.g. pressure mats), activity monitoring (by means of sensors) and comparable connected products that are aimed to support independent living for the elderly. Additionally, Monitor and support every day activities of needy and elderly people, Provide continual assessment of health of disabled and elderly people, Improve surveillance, management and control of home appliances.

Home Entertainment
It is comprised of the sale of products and services for multi-room entertainment (e.g. sound systems) and connected remote controls.
Japanese consumers spend more and more time on mobile devices as mobile device provides facility to use contents while they move to one place to another.

Energy Management
It contains the sale of the products and services for the control and reduction, of energy use (e.g. socket inserts, automated heating control, and timers) as well as connected sensors (e.g. temperature, sunlight, and precipitation sensors).
A smart home is a residential dwelling, in some cases with a garden or an outdoor space, equipped with sensors and actuators to collect data and send controls according to the activities and expectations of the users.

About Us
Renub Research is a Market Research and Consulting Company. We have more than 10 years of experience especially in international Business-to-Business Researches, Surveys and Consulting. We provide wide range of business research solutions that helps companies in making better business decisions. Our clients rely on our market analysis and data to make informed knowledgeable decisions. Our pertinent analysis helps consultants, bankers and executives to make informed and correct decisions.
Contact Us
Renub Research
Phone: +1-678-302-0700
Email: info@renub.com
Website: http://www.renub.com
Follow us on LinkedIn: http://www.linkedin.com/company/renub-research