High Intensity Focused Ultrasound (HIFU) Product Analysis

25 Jul, 2017
Cancer treatment is an important issue in not only developed countries but developing and low-income countries too. High intensity focused ultrasound (HIFU) is a FDA-approved, minimally invasive therapeutic treatment that aims to kill cancer cells with high-frequency sound waves. More than 100,000 cancer patients have been treated with this technology globally. Our research report title "High Intensity Focused Ultrasound (HIFU) Product Analysis of 20 Manufacturers & Deals" has been studied from 5 viewpoints:
• HIFU Products
• HIFU Patents and Intellectual Property
• HIFU Clinical & Regulatory Status
• Companies HIFU Revenue
• Latest Development in High Intensity Focus Ultrasound (HIFU)
• Company HIFU Product covered (EDAP TMS, Sonacare Medical, Haifu, Insightec, Theraclion, Alpinion, Shanghai A&S Co., LTD, Mianyang Sonic Electronic Ltd, Eye Tech Care, FUS Instruments, Image Guided Therapy, Philips Healthcare, Profound Medical Corp, Promedica Bioelectronics, Shenzhen PRO-HIFU Medical Tech. Co., Ltd., Shenzhen Wikkon, Sonic Concepts, Verasonics, Changjiangyuan Technology Development Co., Ltd, EpiSonica)

Steadily Growing Cancer Cases Globally
Cancer is one of the leading causes of death worldwide. In 2012, more than 14 Million new cases were identifying which is expected to increase to 22 Million within the next two decades. Africa, Asia, and Central and South America have generated more than 60 percent of new cases. The Most common cancers occurring are lung, female breast, bowel and prostate cancer globally.

High Intensity Focused Ultrasound (HIFU) can Treat Almost All Types of Cancer Patients
High Intensity Focused Ultrasound (HIFU) can treat almost all types of cancer patients such as prostate cancer, breast cancer, liver cancer, kidney cancer, pancreatic cancer, primary and secondary bone malignancy, brain tumor etc. The treatment of prostate cancer is dependent on stage, Gleason score, PSA level and patient age.

HIFU is Commercially Approved Most Part of the World
HIFU manufacturers need to take approval for their HIFU product in respective country regulatory authorities where they want its commercial launch. Country Regulatory authorities check listed HIFU products on the basis of several parameters and when they found that product is safe or does not have any side effects then it approved for commercial launch in the country. At present more than 30 companies are manufacturing HIFU device globally. HIFU is approved all most all part of the world such as Asia, Europe and America.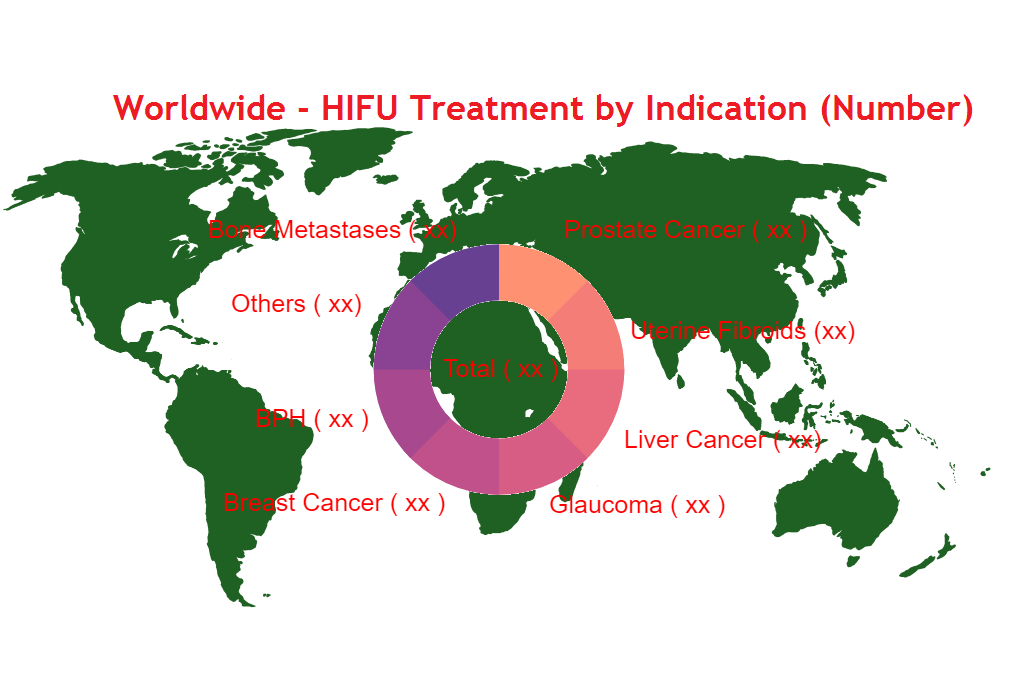 Report covers High Intensity Focused Ultrasound (HIFU) Product Analysis
1. EDAP TMS
2. Sonacare Medical
3. Haifu
4. Insightec
5. Theraclion
6. Alpinion
7. Shanghai A&S Co., LTD
8. Mianyang Sonic Electronic Ltd
9. Eye Tech Care
10. FUS Instruments
11. Image Guided Therapy
12. Philips Healthcare
13. Profound Medical Corp
14. Promedica Bioelectronics
15. Shenzhen PRO-HIFU Medical Tech. Co., Ltd.
16. Shenzhen Wikkon
17. Sonic Concepts
18. Verasonics
19. Changjiangyuan Technology Development Co., Ltd
20. EpiSonica
About Us
Renub Research is a Market Research and Consulting Company. We have more than 10 years of experience especially in international Business-to-Business Researches, Surveys and Consulting. We provide wide range of business research solutions that helps companies in making better business decisions. Our clients rely on our market analysis and data to make informed knowledgeable decisions. Our pertinent analysis helps consultants, bankers and executives to make informed and correct decisions.
Contact Us
Renub Research
Phone: +1-678-302-0700
Email: info@renub.com
Website: www.renub.com
Follow us on LinkedIn: www.linkedin.com/company/renub-research