Global Spinal Fusion Market Share (United States, France, Germany, Sweden, United Kingdom, China, India, Australia)

13 Jan, 2017
United States has the highest market share in Global Spinal Fusion Market followed by Germany, China and France. United Kingdom and India is at the 4th and 5th place respectively. However the scenario is expected to change drastically by 2020. United States market share will decline by almost 10 percentage points. But its market share will still be almost double that of China. Germany will occupy the third position and its market share will be twice more than smaller than China. France will have the fourth position. Whereas countries like India, United Kingdom, Australia and Sweden market share will differ with very few percentage points among themselves.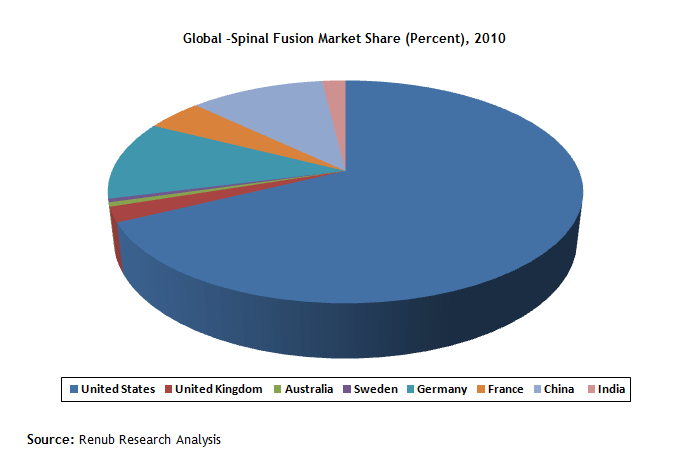 What is Spinal Fusion?
Another term for Spinal Fusion is spondylodesis or spondylosyndesis. It is a surgical operation, which is done to remove the problems from small spinal bones called vertebrae. The primary philosophy is to fuse two vertebral segments together using bone graft, and then the body itself heals the grafts in the next few months. This process is similar to healing a fracture. Spinal Fusion idea is like that of "welding" process.
Types of Spinal Fusion Surgery
Globally Spinal fusion market is driven by ageing population and associated increasing incidences of degenerative spinal conditions. Back pain is the most common problem globally, and it is a costly affair for healthcare system. It is estimated that nearly USD 90 Billion annually is spent on back pain related problem in United States. Surgery rates are different across all regions of United States. In some region, it is overutilization whereas in some region surgery rates are underutilization.
Our research report titled "Global Spinal Fusion Market, Procedure Volume and Forecast" talks about the Spinal Fusion Market and Spinal Fusion Procedures data for 8 countries from 2010 to 2020.
All the 8 Countries studied in the report are as follows
1. United States
2. France
3. Germany
4. Sweden
5. United Kingdom
6. China
7. India
8. Australia