China Women Footwear Market Growth Analysis

12 Dec, 2016
Women's footwear segment is one of the fastest growing industries in China. The market trends are showing positive direction since last decade. Rise in manufacturing capacity and growing unprecedented footwear demand by women in China ( PRC ) have transformed China's economy. Strong economic growth encouraged middle class people of China especially women spend more. China Women Footwear Market for 2010 was more than USD 15 Billion and by 2012 this market further made a growth of more than USD 20 Billion.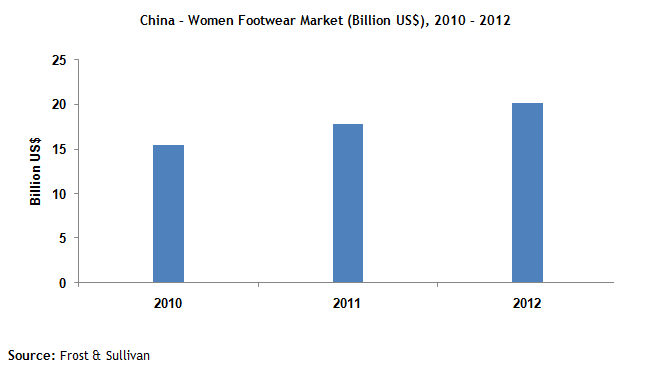 From the company perspective middle class people are the core target segment. Mid-to-premium women's footwear segment makes sustainable development for Chinese footwear companies as well as foreign players in China (PRC) . Chinese women are more influenced by western culture. They prefer different varieties of footwear to wear in different occasion. Therefore Chinese player are striving to cater different mix of footwear like casual footwear, business casual footwear, sports casual footwear, formal footwear, sports footwear etc.
Chinese footwear industry accelerates growth which has been inflamed by the successive increases of industrial output, imports & exports and capital investment over last decades. Prudent consolidation among small, medium and large players is anticipated since last decade to encourage industry consolidation with an effort to regulate and monitor the industry for the sake of enhance competitiveness in the global market.
Our research report "China Footwear Market (By Gender, Purpose and Lifestyle) & Forecast" studies the China Footwear industry from following points
China Footwear Market & Forecast by Gender
China Men's Footwear Market

China Women's Footwear Market
China Footwear Market & Forecast by Purpose
China Business Casual Footwear Market

China Formal Footwear Market

China Sports Casual Footwear Market
China Footwear Market & Forecast by Lifestyle
China Luxury Footwear Market

China High-end Footwear Market

China Middle-end Footwear Market

China Low-end Footwear Market