China Online Gaming Market was Yuan 98.67 Billion, an increase of 35.8 percent

17 Jan, 2017
By the end of year 2015; China Online Gaming Market was Yuan 98.67 Billion compared to Yuan 72.67 Billion in the year 2014, it's an increase of 35.8 percent year on year. China has the biggest online gaming users in the world. China online gaming industry is huge. The gamers in China can use the internet to access a huge range of games, creating a large and diverse marketplace. Due to growth in disposable incomes, which gives further rise to internet population, thus making China a very rewarding market for online gaming in future.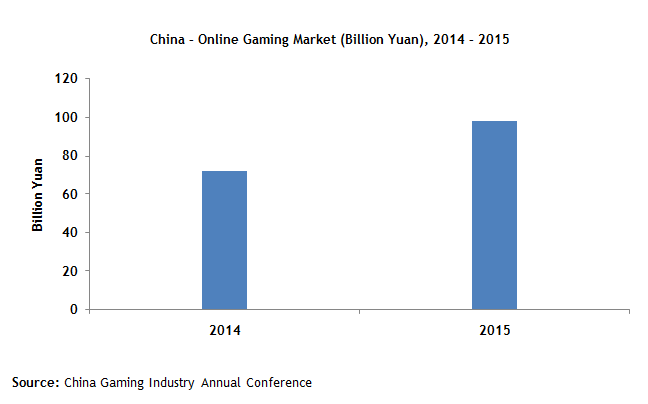 Mobile online gaming has also become very popular in China thanks to the increase in affordable Smartphone's and continued investment in software and services from Chinese tech companies. The increase in Smartphone users will continue to drive the market for mobile games while average revenue per user shows lot of potential for growth in China. As there is rise in maturity level and growth in sophistication of mobile content developer and publishers, Chinese online gaming companies are also able to grow in other countries. This growth in mobile gaming industry has fueled the competition developers and content publishers.
Why Chinese online gaming market is so appealing for global gaming companies?
The primary reason behind the phenomenal growth in China mobile industry is that China has one of the highest numbers of smartphone users globally. The majority of Chinese owns a low-priced but good performance smartphone, which helps them in playing mobile games.
Majority of Chinese smartphone users are young, dynamic and living in metro or 2nd tire cities of China, out of this almost 50 percent of users are female. These users are regular users of social media like QQ, WeChat etc and they spend online.
Online games can generate revenue in various ways. One is paid game model, where gamers needs to pay before playing the game. Second is in Game payment option, where gamers can get more life while playing the game. Other than these two one other option is in game advertising in this mode companies promote their brands by making in place advertising.