Cardiac Maker Analyzer Product Analysis & Marketing Strategies of its Companies

31 Jul, 2017
Renub Research recently published a report on "Cardiac Marker Analyzer Product Analysis, Business & Marketing Strategy of Cardiac Marker Companies". The report comprises in-depth analysis by company (products specifications, comparative tests analysis, merger, acquisitions, and agreements), sales & Forecast to 2022.
Get Free 10% Customization in This Report
Access Full Research: http://www.renub.com/cardiac-maker-analyzer-product-analysis-business-and-marketing-strategy-of-cardiac-maker-companies-1180-p.php
Cardiac Markers Analyzers generally measure the levels of enzymes and proteins that are linked with injury of the heart muscle. When any damage to the heart muscle occurs, the levels of cardiac markers rise over time that is why blood tests for myocardial infarction are taken over a 24-hour period. These enzymes include Creatine Kinase (CK), Myoglobin, Brain Natriuretic Peptide (BNP), and the proteins Troponin I (TnI), Troponin T (TnT) .
Request a free sample copy of the report: http://www.renub.com/contactus.php
Cardiac troponin levels usually remain too low; hence, they cannot be detected with most blood tests and when they are detected, it's usually represents that the heart muscle got damaged due to a myocardial infarction commonly termed as Heart attack. Troponin levels may also remain high for up to 14 days after a heart attack strikes.
Today, a number of companies focused their interest in the development of advanced and highly efficient cardiac markers that perform several cardiac marker tests on their cardio-metabolism platform and established them as the leader in this market. Beckman Coulter offers the maximum number of cardiac marker tests on its cardiology platform while Abbott Laboratories (i-Stat) and Siemens Healthineers (Stratus® CS Analyzer) also offer several cardiac marker tests on their cardio-metabolism platform.
Alere Inc., a renowned name in rapid diagnostic tests, provides reliable and actionable health information through cardiac marker tests, ensuing in better clinical outcomes. Alere's Cardiology net product sale was more than US$ 600 Million in 2016 and is expected to rule the industry rigorously in the coming future.
Cardiac Marker Analyzers are important for the prevention of the misdiagnoses of cardiac conditions.
A Cardiac Marker Analyzer increases its efficacy and accuracy with special features, such as software, which provides an internal standard to diagnostic procedures and built in LCD displays for the visualization of practices.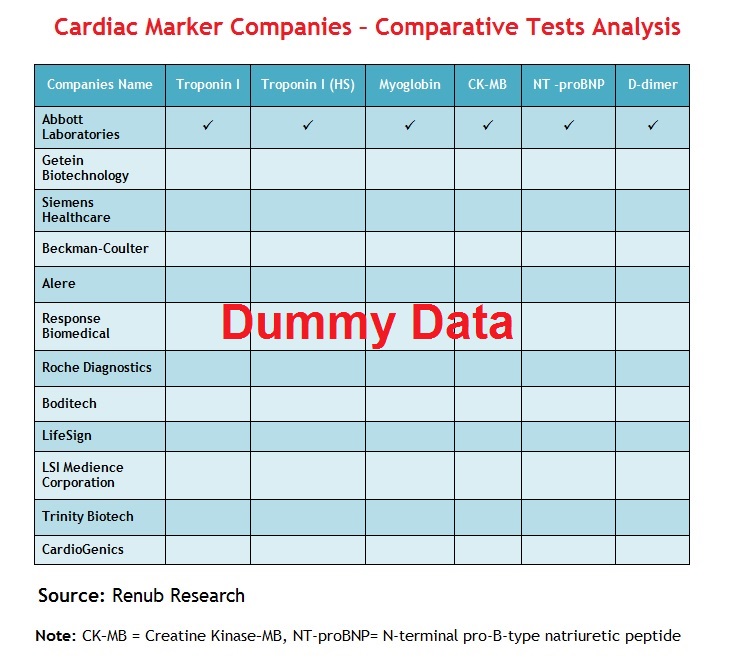 The Report Studies the 12 Companies Cardiac Marker Analyzer Product Specifications, Merger, Expansion and Distribution Plans

1. Alere
2. Response Biomedical
3. Abbott Point of Care
4. Roche
5. Siemens Healthineers
6. Beckman Coulter
7. Boditech
8. Lifesign
9. LSI Medience Corporation
10. Trinity Biotech
11. CardioGenics Holdings Inc.
12. Getein Biotechnology

About Us
Renub Research is a Market Research and Consulting Company. We have more than 10 years of experience especially in international Business-to-Business Researches, Surveys and Consulting. We provide wide range of business research solutions that helps companies in making better business decisions. Our clients rely on our market analysis and data to make informed knowledgeable decisions. Our pertinent analysis helps consultants, bankers and executives to make informed and correct decisions.
Contact Us
Renub Research
Phone: +1-678-302-0700
Email: info@renub.com
Website: www.renub.com
Follow us on LinkedIn: www.linkedin.com/company/renub-research