Breast Cancer Screening Market is estimated to be more than US$ 20 Billion by 2022

26 Jul, 2017
Breast Cancer Screening Market is estimated to cross the figure of US$ 20 Billion by 2022. Breast Cancer Screening means checking a woman's breast for cancer before the symptoms and sign of the diseases. Breast cancer screening cannot prevent breast cancer, but it is helpful in finding breast cancer early when it is easier to be treated. Health care provider needs to inform all women irrespective of their patients about the best screening options for them. The three types of option available are Mammogram, MRI Screening and Ultrasound.
According to The United State Preventive Services Task Force (USPSTF) report, women who are at the age of 50 to 74 years are at an average risk for breast cancer. Women who are of age 40 to 49 years should consult with their doctors about when to start and how often to get a mammogram.

Types of Breast Cancer Screening Diagnostics
Mammogram
The Mammogram is an X-ray of the breast. It is the best way to find breast cancer in early stages. The Mammogram could not prevent cancer but it can save lives by finding cancer at earliest. In most Established nations, the mammogram is incorporated with government breast cancer screening program while in less Established nations; mammogram is on their way to be adopted by the government.

MRI Screening Market
In a breast MRI screening Test the method includes magnets and radio waves to take the pictures of the breast. It is used along with mammogram to screen women who are at high risk for breast cancer. MRI is not used for women who are at average risk.
Mainly the established nations dominate the breast cancer MRI screening test market as it is a very expensive procedure. The nations like The United State, France and Germany held control over half of the market in 2016. The other nations who control the market in MRI screening test were Italy, The United Kingdom and Canada.

Ultrasound Test
Ultrasound is an imaging test which sends high- frequency sound waves through the breast and converts it into images on viewing screen. No radiation is involved in it. Screening test for breast cancer is not using Ultrasound on its own either it used to complement other screening tests. However, the use of ultrasound in screening is associated with high rate of both positive as well as negative outcomes.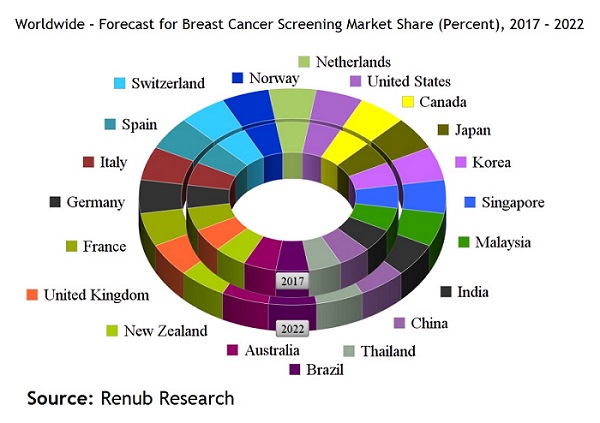 Breast Cancer Awareness around the World
The Breast cancer awareness is very low in lower and middle- income nations. In these nations, the government has no proper program for breast cancer screening because of lack of government support. Women are not aware of the breast cancer as a fatal disease in these nations and they cover their problems due to social and cultural issues. One of the main reasons for the low detection of breast cancer diseases is because of the limited number of lady doctors in these nations.

The Report Studies the Breast Cancer Market (Mammogram, MRI Screening & Ultrasound Test) on the basis of: Country
1. United States
2. Canada
3. United Kingdom
4. France
5. Germany
6. Italy
7. Spain
8. Netherlands
9. Norway
10. Switzerland
11. India
12. China
13. Japan
14. Korea
15. Singapore
16. Thailand
17. Malaysia
18. Brazil
19. Australia
20. New Zealand
About Us
Renub Research is a Market Research and Consulting Company. We have more than 10 years of experience especially in international Business-to-Business Researches, Surveys and Consulting. We provide wide range of business research solutions that helps companies in making better business decisions. Our clients rely on our market analysis and data to make informed knowledgeable decisions. Our pertinent analysis helps consultants, bankers and executives to make informed and correct decisions.
Contact Us
Renub Research
Phone: +1-678-302-0700
Email: info@renub.com
Website: www.renub.com
Follow us on LinkedIn: www.linkedin.com/company/renub-research