Asia Proton Therapy Market to grow with 18 percent CAGR in Future

15 Jun, 2017
Renub Research latest study "Asia Proton Therapy Market & Forecast" gives extensive overview of Asia proton therapy market and its potential with forecast figures and treated patients table by center along with available reimbursement policies.
Proton therapy market in Asia is predicted to grow with double digit CAGR of 18 percent in future. Proton beam therapy in Asia is recognized and getting acceptability due to its effective outcome. Proton therapy technology holds enormous potential as evident in the growing number of proton centers across the Asia.
Radiation therapy is considered as prominent therapies used today in the treatment of cancer. Proton therapy is a best form of radiation available, also called proton beam therapy that uses protons rather than x-rays to treat cancer. It has gain popularity due to its high success outcome and accuracy. Protons have significant clinical benefit over other conventional methods when targeting tumors of heart, kidneys, and eyes. In Asia, there are 15 proton therapy centers already in operations and an almost equal number of proton therapy centers is expected to come up in future.
Asia – Proton Therapy Market (Million US$), 2009 – 2016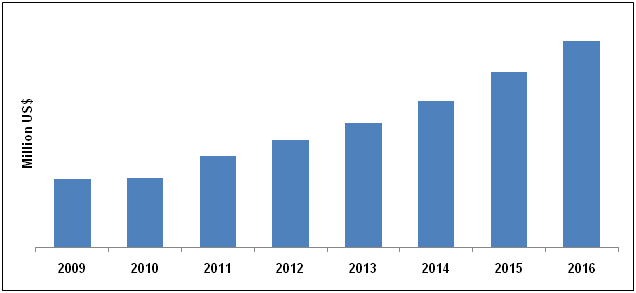 Source: Renub Research Analysis
Varian Technology will collaborate with China's Government-Owned Proton Therapy Center
HIMC will be the first government-owned proton therapy center in China. The center will facilitate three rooms with 360-degree rotational gantries. Equipment installation is projected to start in late 2017 and will be used by the end of 2018. Varian's ProBeam system will provide fully integrated intensity-modulated proton therapy (IMPT) to empower more efficient adaptive proton therapy. The Varian's pencil beam scanning technique provides oncologists the capability to send the dose precisely to the tumor to minimize dose to surrounding healthy tissue. Dr. Moataz Karmalawy, general manager of Varian's Particle Therapy division, said that they will work closely with the HIMC to make this hi-tech cancer-fighting technology accessible to patients across China. China Proton Therapy Market has huge potential; it is predicted to grow with double digit CAGR of 25% in future. As of now China boasts of 2 Proton Therapy Centers, but in future it will have 6 Proton Therapy Centers.
About Us
Renub Research is a Market Research and Consulting Company. We have more than 10 years of experience especially in international Business-to-Business Researches, Surveys and Consulting. We provide wide range of business research solutions that helps companies in making better business decisions. Our clients rely on our market analysis and data to make informed knowledgeable decisions. Our pertinent analysis helps consultants, bankers and executives to make informed and correct decisions.
Contact Us
Renub Research
Phone: +1-678-302-0700
Email: info@renub.com
Website: http://www.renub.com
Follow us on LinkedIn: http://www.linkedin.com/company/renub-research