Adult Vaccines Market to be USD 20 Billion by 2022

21 Jul, 2017
Adult Vaccines Market is projected to be US$ 20 Billion by the year 2022. Vaccines can prevent the death rate from diseases like Pneumococcal and Influenza related complications in the adults. National Immunization Programme has been introduced by almost all the countries of the world in their vaccination schedule to overcome the epidemics caused by Vaccine preventable diseases. Global Immunization Vision and Strategy (GIVS), WHO's Global Vaccine Action Plan, to minimize the occurrences of vaccine preventable diseases, the GAVI associations are putting their best efforts.
Adult Vaccines consists of biological products used to enhance the immune response of a body to protect against diseases like Influenza and Pneumococcal vaccines, Cervical Cancer (HPV), Hepatitis and Travel vaccines, Zoster, Meningococcal, Tdap and MMRV. The adult vaccines market is driven by many factors as the occurrence of diseases, increasing government and non-government accounts for the development of vaccines as well as investments by companies. High potential growth and rising markets and development of therapeutic and adjuvant vaccines have opened opportunities for the adult vaccines market market. However, the growth of global vaccines markets is hampering by huge capital investments and stringent regulations.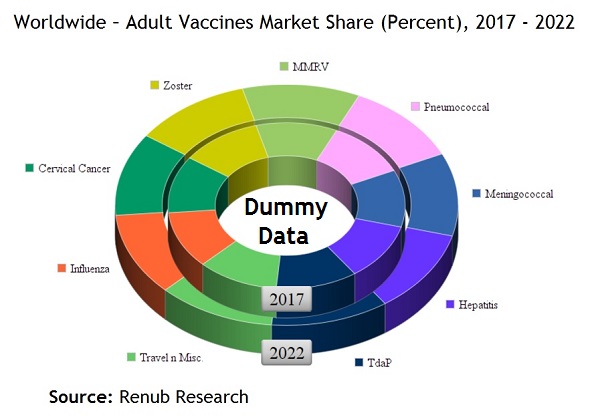 Influenza Vaccines Dominates the Adult Vaccines Market
Influenza vaccine dominates the adult vaccines market in the year 2017. Globally almost all the countries, recommends the influenza vaccine to be taken annually due to increasing awareness and efficiency of the vaccine in preventing diseases. Influenza vaccine holds the maximum share into the adult vaccines market. However, it will lose its control to the Pneumococcal vaccine in the coming years. Other than Influenza and Pneumococcal vaccines, Cervical Cancer (HPV), Hepatitis and Travel vaccines, Zoster, Meningococcal, Tdap and MMRV also have substantial market share in Adult Vaccines Market until the year 2022.

The Report Studies the Adult Vaccines Market on the basis of:
Vaccines Market (2011 – 2022)
1. Influenza Vaccines
2. Cervical Cancer Vaccines
3. Zoster (Shingles) Vaccines
4. MMRV (Measles, Mumps, Rubella and Varicella) Vaccines
5. Pneumonia Vaccines
6. Meningitis Vaccines
7. Hepatitis Vaccines
8. DTap (Diphtheria, Tetanus, Pertussis) Vaccines
9. Travel & Miscellaneous Vaccine
Key Players (2011 – 2022)
1. GlaxoSmithKline, plc
2. Merck & Co.
3. Sanofi Pasteur's
4. Pfizer, Inc.'s
About Us
Renub Research is a Market Research and Consulting Company. We have more than 10 years of experience especially in international Business-to-Business Researches, Surveys and Consulting. We provide wide range of business research solutions that helps companies in making better business decisions. Our clients rely on our market analysis and data to make informed knowledgeable decisions. Our pertinent analysis helps consultants, bankers and executives to make informed and correct decisions.
Contact Us
Renub Research
Phone: +1-678-302-0700
Email: info@renub.com
Website: www.renub.com
Follow us on LinkedIn: www.linkedin.com/company/renub-research